While the seeds of change have been planted and the necessary adjustments to care delivery approach are already growing fast, current forecasts suggest that 2014 will be the year Medicaid Health Homes fully take root in the new healthcare environment.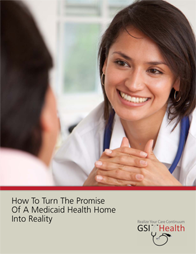 The reasons for this watershed moment in healthcare history are simple:
Better care
Happier patients
Higher quality
Lower costs
Improved compliance and adherence
As the latter half of 2013 gets underway, providers and payers are realizing that those that make the switch sooner set themselves up for greater successes moving forward. The changes that occur in the list above set up a clear competitive advantage to the earliest adopters.
GSI Health recently published an article on www.healthcarefinancenews.com. For an in-depth look at how Medicaid Health Home technology improves patient care, click here. 
Ms. Lori Evans Bernstein is the president of GSI Health, a health IT provider. Ms. Evans Bernstein has over two decades of experience in healthcare, including executive roles within health care and health IT corporations; senior federal and state governmental appointments; healthcare delivery system operations; and health services and policy research. She writes and speaks regularly on health IT across the country and participates in numerous industry and federal and state policy initiatives as a national expert. Follow GSI Health and Ms. Evans Bernstein on Facebook, Twitter and Google+.